Restorative Dentistry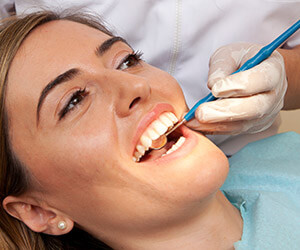 At some point we all need restorative help for our teeth. If you're in that situation now, we hope you'll consider turning to Art District Dental in Fort Worth for help. Our practice offers a range of today's best restorative services so you can once again have a strong, functional smile. Simply contact our office to reserve your consultation with Dr. Wear. During your visit, we'll carefully assess your teeth to determine your specific needs. Once we know what these needs are, we can put together a treatment plan built just for you.
Our restorative services include:
Root Canals
If the interior of your tooth, where the nerve is located, has developed an infection, we can help you save your tooth and reclaim good oral health with a root canal. During your root canal, Dr. Wear will remove your nerve and all traces of infection and fill the inside of your tooth with a safe, biocompatible material. We'll complete your procedure by placing a protective crown over your tooth, restoring its strength and appearance.
Removable Partials and Dentures
If you need to replace multiple teeth or an entire row of teeth, our Fort Worth office can help. With a removable partial denture or full denture you can have a full, functional smile again. A partial denture consists of multiple teeth spread across a gum-colored base. A full denture, meanwhile, consists of a full row of replacement teeth on a gum-colored base.
Sedation Dentistry
Are you nervous about your upcoming appointment? With sedation dentistry, you can have a more comfortable experience than you ever imagined. Sedation dentistry safely creates feelings of relaxation in patients so they can receive the essential care they need without fear. To learn more about how exactly this revolutionary service works don't hesitate to contact our office. Our friendly team would be happy to answer your questions about sedation dentistry, in addition to scheduling your next appointment.
Explore Other Services
Preventive Dentistry Crowns & Bridges Dental Implants Cosmetic Dentistry
Tooth-Colored Fillings All-Ceramic Restorations Emergency Dentistry