General & Preventive Dentistry in Fort Worth, Texas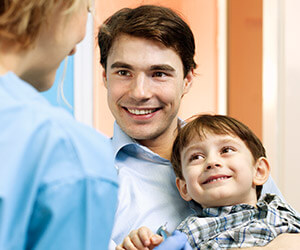 Preventive dentistry is a foundational part of our practice. With the preventive services we offer, we can help patients achieve cleaner, healthier, stronger smiles.
For optimal oral health, we recommend visiting Dr. Wear every six months for a routine cleaning and exam. With these appointments, we can help you lay the groundwork for a lifetime of excellent health and wellbeing.
Routine cleanings and exams are just the beginning of what our Fort Worth dental practice offers, though. Our complete preventive services include:
Cleanings & Exams
You may have an excellent brushing and flossing routine, but a professional hygienist can help you clean parts of your smile that can be difficult with the normal tools. What's more, these visits give Dr. Wear an opportunity to assess your teeth and gums for serious issues. If we find anything during your cleaning and exam, we're happy to discuss your treatment options with you. Call us today to schedule your next visit to Art District Dental.
Nightguards for TMJ/Bruxism
A nightguard is a special orthodontic appliance designed to help patients who struggle with a teeth grinding condition known as bruxism. If left untreated, bruxism can result in a range of symptoms that includes frequent headaches, earaches, pain in your neck, back, and shoulders, as well as an increased risk of TMJ dysfunction. Wearing a custom-made nightguard while you sleep will help you protect your teeth and minimize your symptoms.
Oral Cancer Screenings
While you don't hear about oral cancer as much as you hear about other kinds of cancers, it's a very serious problem. According to the Oral Cancer Foundation, it claims approximately one life every hour. It's also common for it to go undiagnosed until it's reached an advanced stage of development. With frequent screenings, though, we can help patients diagnose cancer much earlier. As a result, patients have an increased chance of an early diagnosis and a early treatment. To learn more about the importance of oral cancer screenings, don't hesitate to give our Fort Worth office a call.
Digital Imaging
To accurately diagnose your needs, we need to have a comprehensive picture of your smile. Digital X-rays can help us with that. Using digital radiography, we can capture detailed images that show us not only your teeth and gums but also the bone supporting your smile. Why rely on digital radiography instead of traditional radiography? In part because the pictures are clearer. But more than that, the X-ray process is safer for patients and the images we capture can be viewed immediately on a nearby monitor.
Explore Other Services
Restorative Dentistry Crowns & Bridges Dental Implants Cosmetic Dentistry
Tooth-Colored Fillings All-Ceramic Restorations Emergency Dentistry