Meet Our Fort Worth Dentist

Dr. Eric Wear
Dr. Eric Wear grew up in Houston, TX with two older sisters. After graduating from high school, Dr. Wear enlisted in the US Navy and was fortunate enough to be selected for Naval Aircrew Candidate School in Pensacola, FL. After completing two years of training, Dr. Wear was assigned to fly as a radar and weapons operator in the aircraft carrier based Lockheed Martin S-3 Viking jet. Dr. Wear has completed over 100 carrier based missions with the USS Independence and USS Kittyhawk and has served in various parts of the world, including Asia and the Persian Gulf and loves to talk about his travels.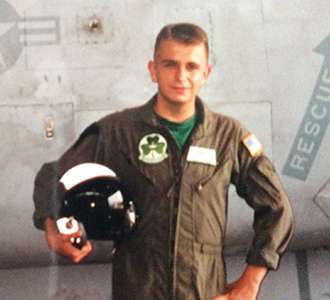 After leaving the military, Dr. Wear returned to Houston and completed his Bachelors of Science at the University of Houston where he met his wife, Amanda. Upon graduation, he relocated to Dallas to attend Baylor College of Dentistry where he worked as a peer tutor, helping underclassmen with dental fundamentals.
Prior to purchasing Art District Dental, Dr. Wear worked in private practice and also with special needs patients as the Dental Director at the Texas State Supported Living Center in Denton, TX.
Dr. Wear enjoys giving back to the community and has volunteered his services to Mission Arlington and the Salt and Light Clinic in Fort Worth providing free dentistry to residents in need. In July of 2011, he traveled to Costa Rica with a group of dentists to provide care to people in need. He also attends a great number of continuing education courses every year and is a member of the American Dental Association, Texas Dental Association, Academy of General Dentists, and the Fort Worth Dental Society. He also attends monthly meetings of the Ft Worth Spears Dental Study Club. Dr. Wear was voted as a 2014 and 2015 Top Dentist in Fort Worth, Texas Magazine.
Dr. Wear enjoys spending time with his wife and his sons, Cash and Brooks. Next time you see Amanda in the office, be sure to ask her about her appearance on The Wheel of Fortune! The Wear family lives in the Ridglea area where they have a Border Collie, named Buster, who was rescued from the Humane Society.
More to Explore