Emergency Dentistry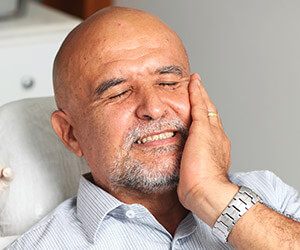 Do you need help with a dental emergency? At Art District Dental, we're happy to offer assistance to those with an urgent need. Simply give our Fort Worth office a call to alert us to your situation and we'll schedule a time for you to come in. We can also offer suggestions for managing your emergency until your appointment. These suggestions won't solve your problem, but they may provide relief in the meantime.
The most common dental emergencies include:
Knocked Out Tooth
After rinsing your tooth gently with water, try holding it in the socket it came from until you get to our office. If you can't do this, store it in a baggie of milk or water and bring it to us so Dr. Wear can determine if reattachment is possible.
Broken Tooth
If you have a cracked or broken tooth, rinse it immediately with warm water and hold a cold compress against the affected area. This will help you reduce swelling.
Temporary Crown Falls Out
Do you have a temporary that's just fallen out? After giving us a call to reserve your visit, dry your natural tooth and use a small dab of toothpaste to temporarily reattach it. Denture adhesive can also work. But remember, this is just a temporary solution. You need to have your temporary professionally reattached by Dr. Wear as soon as possible.
Severe Toothache
If one of your teeth has developed a painful ache, try rinsing around the affected area, then use floss to make sure debris isn't causing your pain. Do not put aspirin on the tooth because it can damage your sensitive gum tissue. Call our office for an appointment if the pain persists.
Cut/Bitten Tongue or Lip
Thoroughly clean the cut and hold a cold compress against it. If your bleeding doesn't stop, visit your local emergency room.
Possibly Broken Jaw
If you think you have broken your jaw, apply a cold compress and go to your local emergency room. If you lost or damaged teeth during your injury, call us after your visit to the ER.
Explore Other Services
Preventive Dentistry Restorative Dentistry Crowns & Bridges Dental Implants
Cosmetic Dentistry Tooth-Colored Fillings All-Ceramic Restorations