Dental Implants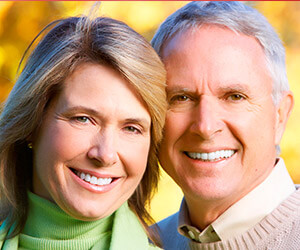 If you need to replace one or more teeth, you could choose a traditional restoration, or you could choose an implant-based option instead. Dental implants have a structure that mimics nature's own design, with a crown on top and a root underneath. Because of this structure, patients who choose dental implants end up enjoying more stable and lifelike results.
The Treatment Process
A full implant procedure is completed over the course of a few phases. The first of these is the placement phase. In the placement phase, a skilled oral surgeon will carefully insert your implant(s) in your jaw during a routine procedure.
Once your implant(s) has been placed by a skilled surgeon, a process known as osseointegration will occur. During osseointegration, your implant(s) and your jawbone will form a natural bond with each other. This bond is what accounts for the lifelike results that are possible with implant-supported restorations.
After the osseointegration process is complete, you can return to our Fort Worth office for the restoration phase (you'll visit a specialist for the placement phase). The restoration phase will culminate in the attachment of your custom-made restoration.
A Versatile Treatment Option
Dental implants can be paired with a variety of restorations, allowing patients with different needs to achieve great results. Whether you need to replace a single tooth with a crown or multiple teeth with a bridge or denture, dental implants can help.
Are Dental Implants Right for Me?
If you'd like to learn more about dental implants, or you'd like to know if you're a candidate for treatment, please contact our Fort Worth office for an appointment. Dr. Wear would be happy to complete an exam for you and make a treatment recommendation. Not every patient is an ideal candidate for implants because a certain amount of bone is required for the placement procedure. If implants aren't right for you, we would be happy to discuss alternative solutions with you.
Explore Other Services
Preventive Dentistry Restorative Dentistry Crowns & Bridges Cosmetic Dentistry
Tooth-Colored Fillings All-Ceramic Restorations Emergency Dentistry