All-Ceramic Restorations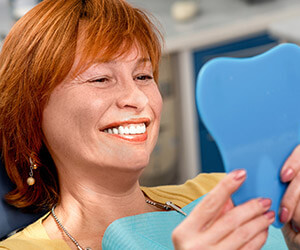 Does your smile need restorative help? At Art District Dental, we're committed to using all-ceramic restorations to help patients improve the strength and beauty of their teeth. This is all part of our commitment to giving patients conservative care with a cosmetic focus. The goal of conservative dentistry is to give patients the essential help they need while making as few changes to their teeth as possible.
The Benefit of All-Ceramic Restorations
Restorations have been made from a wide variety of materials over the years. But while these materials all have their pluses, they don't all look natural. All-ceramic restorations, on the other hand, have a translucency that mimics the way our teeth naturally reflect light. As a result, you can look forward to smiling with confidence after your procedure.
Types of Restorations
Our Fort Worth dentist offers a wide range of restorations for patients who need help, including:
Crowns
Dental crowns are placed over decayed or otherwise damaged teeth to strengthen them. Because your crown will be made from ceramic, it will also improve the appearance of your tooth as well. In most cases, a full crown procedure can be completed in as few as two visits to our Fort Worth dental office.
Inlays and Onlays
While some patients require comprehensive help with a crown, others might benefit from something closer to a filling. In these cases, Dr. Wear may recommend treatment with an inlay or onlay. Both function like fillings but they're milled from ceramic instead of being made from composite resin. Once in place, your inlay or onlay will improve the strength and beauty of your tooth.
Bridges
A bridge uses one or more replacement teeth plus one or more special crowns (known as abutment crowns) to help patients completely replace one or more missing teeth. As with crowns and inlays and onlays, most bridge procedures can be completed in just a couple appointments. With your bridge in place, you can improve the functionality of your smile while also preserving its natural alignment.
Which Option Is Right for Me
During a special consultation at our Fort Worth dental office, Dr. Wear can help you determine which of these restorative services might be right for you. If you have questions about what we recommend, don't hesitate to let us know. We're always happy to discuss your treatment plan in further detail. Call us today to schedule your exam and consultation with us.
Explore Other Services
Preventive Dentistry Restorative Dentistry Crowns & Bridges Dental Implants
Cosmetic Dentistry Tooth-Colored Fillings Emergency Dentistry