Crowns & Bridges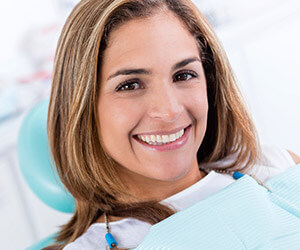 Has one of your teeth sustained an injury or been weakened by decay? Do you need to completely replace at least one, if not more, of your teeth? Dr. Wear and his team at Art District Dental offer two popular restorative services to help in situations like these: dental crowns and bridges. During a consultation with Dr. Wear at his Fort Worth office, we can help you determine which of these two solutions is right for you.
Keep reading to learn more about each, or give us a call to speak with one of our friendly team members.
Dental Crowns
Dental crowns are placed over existing teeth to restore their strength and appearance. Crowns can be made from a variety of materials, including metal, but most contemporary crowns are made from ceramic, because of its natural appearance. The treatment process with a crown typically takes at least two visits. During your first visit, Dr. Wear will prep your tooth, design your restoration, and attach a temporary crown. When your custom-made restoration is finally complete, you'll return to our office to have it permanently attached to your vulnerable tooth. With your crown in place, you can look forward to a stronger, healthier, smile and a renewed sense of confidence.
Dental Bridges
Dental bridges use a combination of crowns and one or more replacement teeth to help patients fill gaps in their smile. Similar to the treatment process with crowns, restoring your smile with a bridge often takes at least two office visits. When your treatment is complete, you can look forward to having a complete, healthy smile again.
Implant-Supported Options
In addition to offering treatment with traditional crowns and bridges, our Fort Worth dental practice also offers implant-supported restorations. With dental implants, qualified patients can enjoy results that mimic the structure of natural teeth. Implants can also be used to help patients replace a full row of teeth. To learn more about dental implants and what sets them apart, please take a moment to visit our dental implants page.
If you're interested in learning more about traditional crowns and bridges, don't hesitate to contact our office for a consultation. Dr. Wear would be happy to answer all your questions, in addition to making a personalized treatment recommendation.
Explore Other Services
Preventive Dentistry Restorative Dentistry Dental Implants Cosmetic Dentistry
Tooth-Colored Fillings All-Ceramic Restorations Emergency Dentistry